Datamaran ESG Software
Driving ESG strategy through AI that protects your organization from emerging risks in real-time
Set up in 30 minutes, get strategic and actionable ESG insights immediately; see trends develop in just three months.
Trusted by the world's leading brands



Endorsed as best practice by regulators (EFRAG and SEC)
The European regulator EFRAG highlights the crucial role of technology in linking ESG risks and opportunities to strategy, recognising Datamaran's data-driven approach as a best practice and profiling our clients as leaders.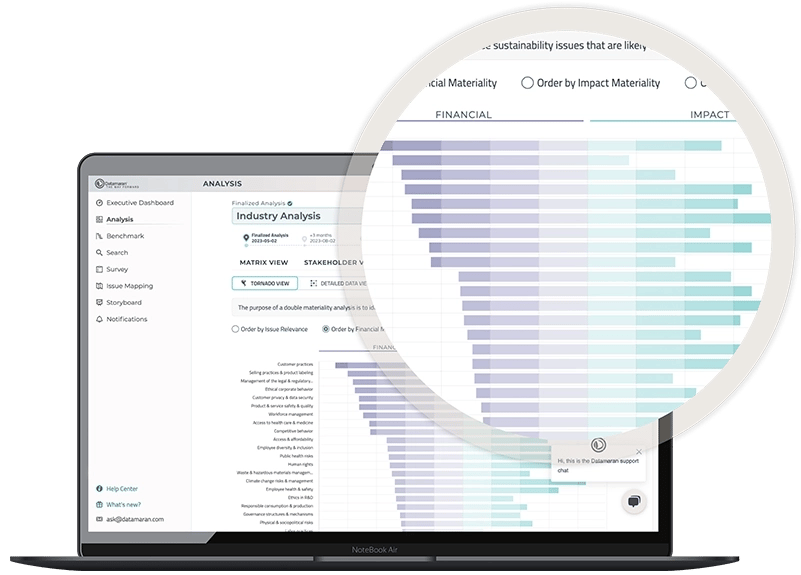 Reduce the risk of greenwashing
Identify priorities and focus on what matters for your business.
Benchmark against peers and analyze the wider ESG regulatory and news environment to reduce risks and reveal opportunities.
Automated analysis to prioritise issues, develop stakeholder engagement, create annual strategies, identify regulatory disclosures and run materiality audits.
Review and present the verifiable data stakeholders need, whether they are employees, board members, investors or regulators.
Develop an informed and authentic ESG position for your organization that resonates with customers and partners.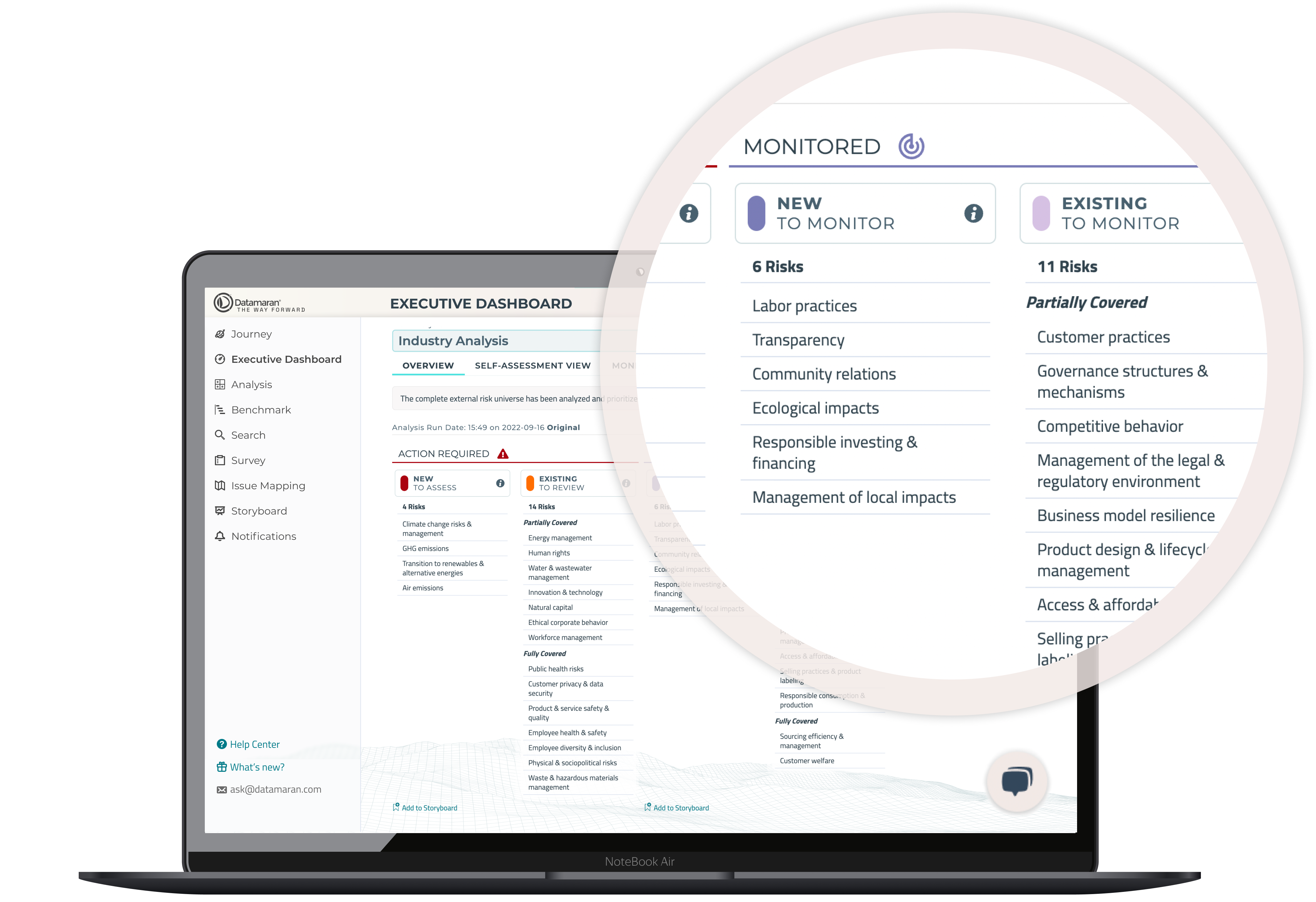 Avoid surprises, take control
Spot emerging ESG issues early and maximize resources.
Constantly monitor news, company reports and regulations for a dynamic and holistic overview of ESG.
Pinpoint new and emerging ESG issues that will impact your business, allowing you to update stakeholders and alert them to red flags.
Review how issues develop and make a proactive, strategic decision to stop challenges becoming a crisis.
Ongoing automated analysis allows greater team efficiency, reducing the impact of the ESG skills gap, helping them focus on quality and adding business value.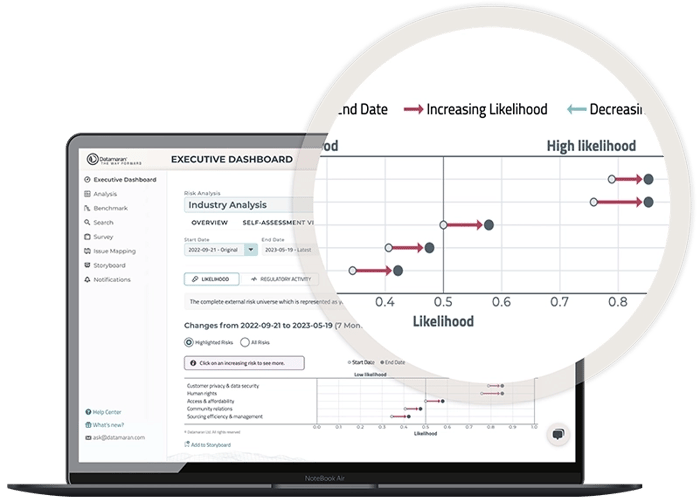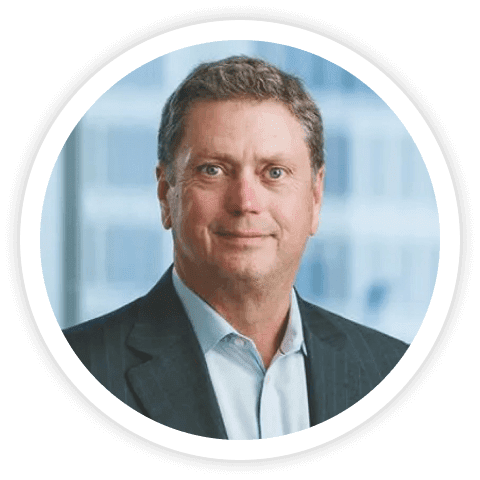 With Datamaran's data-driven approach to external risk analysis and input from key stakeholders, Hexion is now better positioned with a robust strategy to drive results and systematically monitor our success against ESG risks and opportunities
Craig Rogerson
CEO, Hexion
Datamaran is a critical input to our corporate strategy, risk management, disclosure and engagement… especially when we are reporting the results and sharing this with our executive team and our Board of Directors, this gives them comfort in knowing that we're on it.
Melissa Tominack
Manager, Corporate Responsibility, AEP
Datamaran's unique technology ensures businesses have the actionable and quantifiable data they need to prepare for the rapidly changing expectations of society from corporations. Datamaran brings transformative results to businesses around the world – including Fortive – to accelerate progress for a more sustainable future.
Justin McElhattan,
VP & Group President of Fortive's Environmental, Health & Safety Group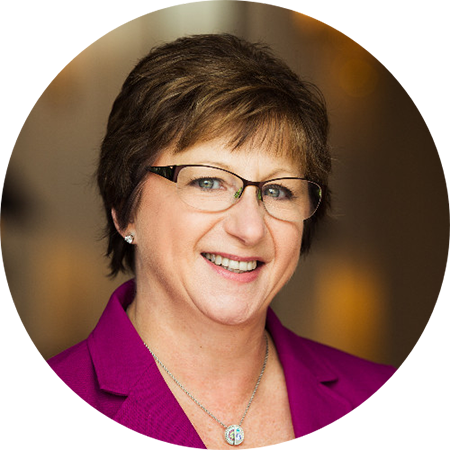 Datamaran gave us the worldview we needed to understand emerging issues and trends, including new regulations in the pipeline that could directly or indirectly affect AEP
Sandy Nessing
Vice President and Chief Sustainability Officer at AEP
Powerful features for confident decision-making
Overview
Identify which ESG risks are new and require immediate action or monitoring.
Monitoring
Visualize how each risk changes over time to allow better prioritisation.
Regulations
Track regulation development over time to predict future requirements.
Analyst query
Dive deeply into the data to get the big picture, right down to granular level analysis.
Survey
Integrate stakeholder surveys into your analysis for a holistic 360 view of risks.
Trends
See which ESG issues are becoming more prevalent to plan future initiatives.
See how Datamaran can help you
Datamaran's AI platform empowers business leaders to navigate the complex ESG landscape with confidence by transforming vast amounts of data into actionable insights.
Datamaran is the leader in Smart ESG, enabling companies to identify and prioritize issues material to their operations, deepen their teams' ESG knowledge, monitor risks and opportunities in real-time and authentically own their ESG strategy in-house. Supported by Datamaran, C-Suite from the world's most trusted brands are confidently making data-driven decisions and taking their company's ESG from one-off compliance-focused exercises to governance-centric initiatives that drive business value.
Fill the form on the right to get your complimentary demo of Datamaran.
Request a Discovery Call
By submitting this form you agree to receive the latest news and updates from Datamaran. We will only send you relevant information.
You can revoke your consent at any time by using the Unsubscribe link, found at the bottom of every email. Check our privacy policy here and our terms of use here.
Datamaran Ltd. is the Data Controller. Privacy-related questions can be directed to our DPO at legal@datamaran.com.